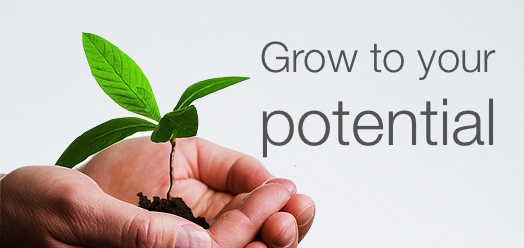 This one daily choice will lead you on the success journey; grow! In order to reach your potential daily growth must be a habit. This reading is designed to get you catapulted on that journey.
I chose to grow today. As I begin today, I recognize it is a new day with new life and new opportunities. With the dawn of this morning I am given new mercies and abundance of grace from my creator.  Yesterday with all of its struggles and successes is gone and tomorrow may never come so I will live today, in the here and now, with vigor and enthusiasm. I will live my life one day at a time. In order to live my life in such a way I make a commitment to grow daily.
I am what I choose to do today and I choose to form habits that will help me to grow today and everyday hereafter. I will form these new habits and soon these habits will begin to form me. Success is not the results of what material possessions I acquire or what things I may achieve. Nor is it determined by my status. Success comes only as the result of personal growth; becoming who and what God intended for me to be. I am committing to live in the habit of daily growth. This habit will aid me on my success journey each new day and I will be transformed through the renewing of my mind.
View Success As A Journey
I choose to grow today. My choice will open my eyes and heart to new opportunities to grow in my relationship with God, to grow closer to those I love, and to grow in my skills and abilities for my life purpose and work. This habit of growth is the pathway for my success journey. I will no longer look at success as a destination. Instead I see it as a journey, a journey that is clearly marked by daily growth. As I pursue the habit of growth, I will enjoy the benefits of this success journey. My relationships with God and others will be more fulfilling. My work will be more fulfilling and I will be more valuable to those I serve through my work. I will have peace of mind in every situation. Purpose will be the hallmark of all that I do. I will have a renewed sense of God's power living in and through me and the pleasures of life will no longer elude me. As I live this daily life of growth these benefits will pursue me, I will no longer have to pursue them.
Like the mercy of God my life begins today fresh and new. The evidence of this new life is my daily habit of growth.
Questions or comments?
If you have questions or comments, I would love to hear from you. Give your feedback below:
Reach Your Potential: Get your copy of Life Palette today!