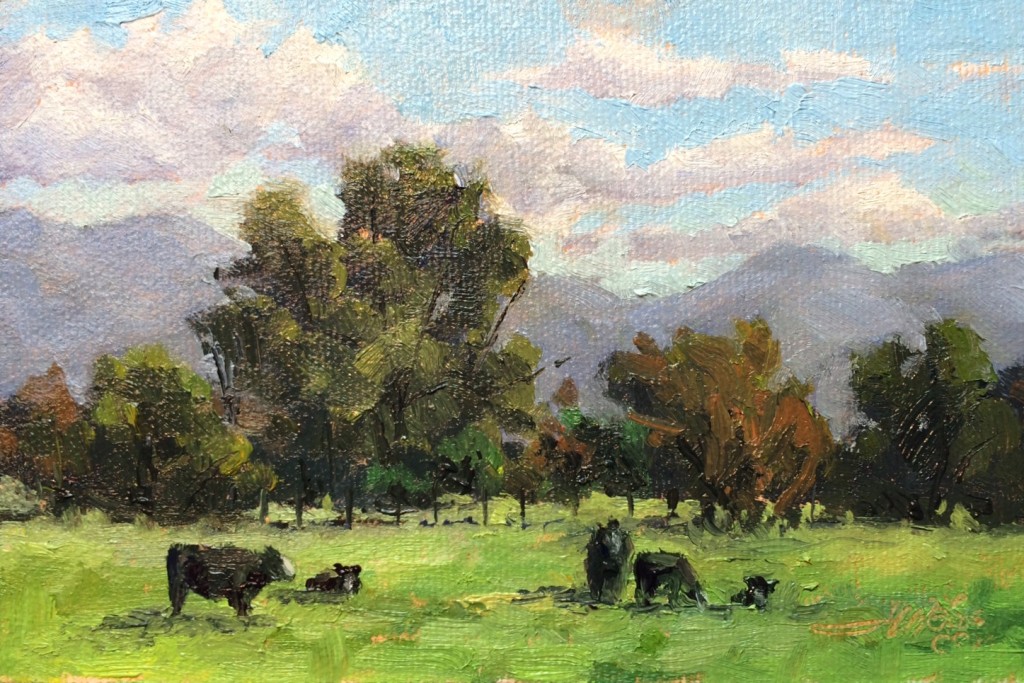 "Lazy Day On The Farm", a 4×6″ oil on canvas fresh off the easel. I just finished this small piece as a study for a larger piece. I love painting farm pics because of my roots growing up on my Grandparents farm in Ohio. I got this reference from a farm/ranch close to my home here in Arizona. I love going out and painting on the nearby ranches, they remind me of my home in Ohio combined with the bigness of the Old West, which I also love.
Life Changing Principles From The Farm
A few things I learned from growing up on my Grandparents farm still affect my life today, and I am so grateful to have learned these lessons. They serve me well and are universal for anyone who wants to fulfill their potential and live life successfully and productively:
1. Make Hay When The Sun Shines
That means you need to take advantage potential productive hours. Wasting time is a "potential" killer.
2. Hard Work Never Killed Anyone
Hardly working is a mantra that is devastating for releasing potential. Don't be afraid of working hard.
3. The Grass Is Always Greener
If the grass is greener on the other side of the fence, it's because that farmer is taking greater care of his farm.
4. Always Pick'em Clean
Not only should you do the work, you complete it. Don't waste.
5. Don't Count Your Chickens Before They Hatch
A chicken coup full of eggs meant nothing. They weren't chickens until the chick hatched.
6. You Reap What You Sow
If you sow a kernel of corn, you don't expect to grow beans. In life, you will always reap what you sow, and reap more than you sow.
7. Life Is Hard, Its Harder When Your Stupid
O.K., that one I learned from John Wayne. In every area of life, to grow and learn is so important.
"Good planning and hard work lead to prosperity, but hasty shortcuts lead to poverty." (Proverbs 21:5 NLT)